From 18th to 19th October, we organized GreekOffshoreEnergy, our first dedicated to the industry in Greece, along with Intec and Akrocean – allowing the European stakeholders to contribute to the emergence and development of a local industrial sector.
"With the roadmap that Greece has just set in its National Program for Offshore Wind Farms (OWF) – and a target of 2GW by 2030 announced by the Hellenic Hydrocarbons and Energy Resources Management Company (HEREMA) – Offshore Renewable Energies represent a concrete opportunity for the Hellenic industry and for the national energy strategy. The industry has now real prospects for development in Greece and it also is a true catalyst for economic growth."  Sabrina Pedrosa Peseux, CEO of Bluesign
GreekOffshoreEnergy gathered 130 offshore renewable energy stakeholders from a dozen of European country and all levels of the supply chain with diverse backgrounds (industrial SMEs, large energy and maritime groups, universities, NGOs and public institutions)
On this occasion, active stakeholders already involved in projects across Europe shared their vision, return on experience on projects deployed in France in particular (SBM offshore about the Provence Grand Large project, the Nantes Saint-Nazaire Port and DEME about the Saint-Nazaire windfarm), and concrete solutions to help accelerate the development of offshore wind energy in Greece.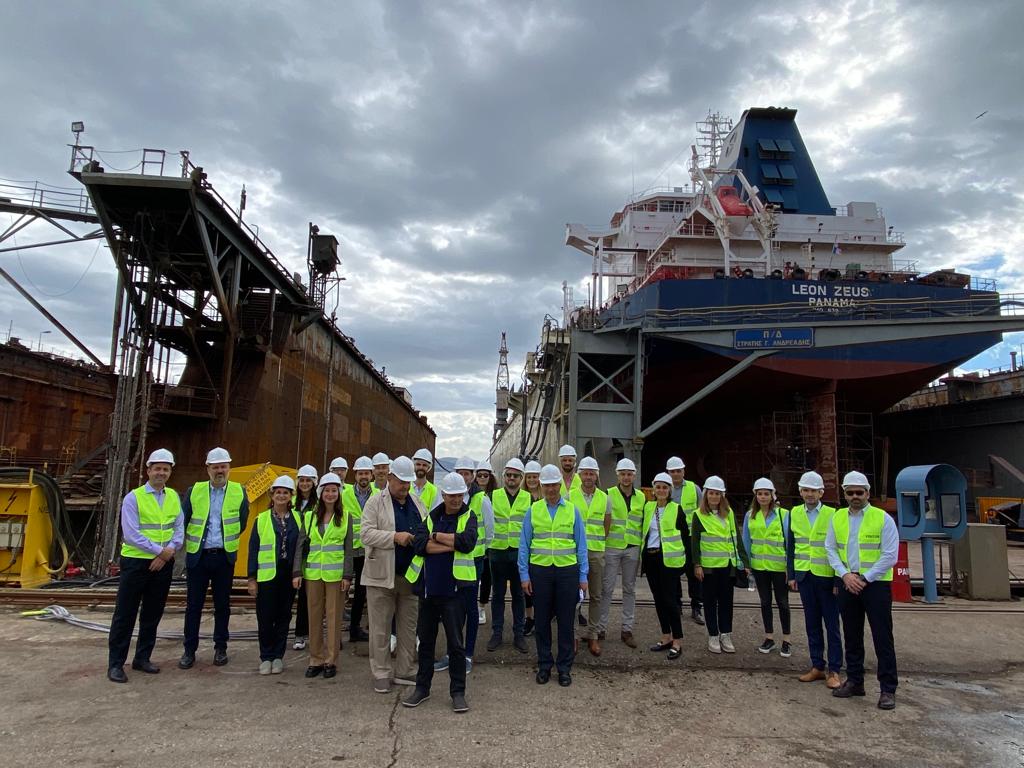 For a local perspective, prior to the conference, a few participants got the chance to visit the Elefsis Shipyards and find out about their plan to develop their infrastructure to support the development of offshore wind.
Throughout these two intense days, participants benefited from numerous networking opportunities to share their experiences and create new synergies that will benefit the local industry.
"We are proud to have organized this 1st edition of the Greek offshore renewable energy conference in Athens in Greece, a territory opened to the Mediterranean and Europe. At Bluesign, we were one of the pioneering actors in the French industry for the first call for tenders in 2012, and we were happy to contribute by sharing knowledge and return on experience to ease the industry development here in Greece." Sabrina Pedrosa Peseux, CEO of Bluesign.
This first edition provided an opportunity to share views on the development of offshore energy projects – starting with an overview of Greece's potential and main challenges for offshore wind commercial, financial, technical, regulatory and social – with the opening of Efi Karra, Sustainability & Policy Advocacy Officer of the Hellenic Wind Energy Association (HWEA) and Thalia Valkouma, CEO of Faria Renewables.
From feasibility and element studies to projects reviews, guest speakers shared a wide range of good practices to get the Greek market off to a good start and take a very concrete look at the various operational phases involved in creating the industrial sector and carry out government projections.
"Ocean data acquisition is the first step to characterise offshore wind sites. Therefore Akrocean wanted to be part of the organisation of this first event which took place at the launching time to the Greece offshore wind business. In the aim of contributing to Greek value chain, we are delighted to work closely with Intec to share our experiences with other companies." Matthieu Blandin, CSO of Akrocean
We will of course keep accompanying the Offshore renewable energy players worldwide towards their growth with the 8th edition of Seanergy*, which will take place in Nantes and Saint-Nazaire (France) from June 26th to 28th 2024. The event aims to gather international actors (industrial, academics and institutional), to gather ecosystems, to support the development of this sector, and to encourage new projects of energy transition and blue growth. Seanergy will provide a nice opportunity to meet all the Greek, Mediterranean and European players, until our next GreekOffshoreEnergy edition.